World's ONLY Water Conservation Shower Arms
Turns Every Shower Head into a Low-Flow Shower Head 
Valvette Systems' Proprietary 21st-Century Technology:  In-stem Flow Regulation (IFR) Powered by LittleValve
(Valvette means 'little valve' in French)

REMEMBER:  The bill-payer controls the water flow.
Watch the video below.

  See just how much money spent for water, heating and sewer fees

can be
saved
by the bill-payer and yet still provide a decent shower
         Water Conservation Shower Arms & Shower Arm Adapters
Featuring the proven LittleValve In-stem Flow Regulation (IFR) Water Conservation Technology
                  Save  BIG  on  Water    ●    Water  Heating  Costs   ●    Sewer  Charges
                              ●      Huge Return on Investment for hotels, schools, military bases & more.                                                                                                                               ●      Management uses tool to adjust water flow prior to reaching showerhead.                                                                                                                        ●      5-minute Adapter install gives parents the same water flow control at home.                                                                                                                    ●      Save on all 3 utility costs with any showerhead on the market.                                                                                                                                              ●      SAVE 5% – 15% immediately upon installation – shower feels the same.                                                                                                                            ●      A decent shower even when water flow is reduced by 21% – 25%.                                                                                                                                        ●      Turn every showerhead into a low-flow showerhead.
                Takes control of water usage from person in the shower,
                                                                 Gives control to person paying the utility bills.
IFR Shower Arms and Shower Arm Adapters both accomplish the same thing.  The Arms are directed to hotels, motels, schools, sports centers, military bases, battleships, apartments.  The Adapters are more directed to the homeowner with children that lounge in the shower wasting water and are much easier to install.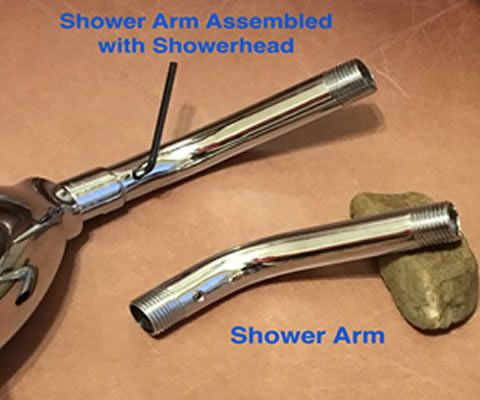 Nice, chrome-plated 6 inch Shower Arm for that nicer, professional look.
Promotional Cost: $ 23.95
Retail Cost: $ 27.69
8 inch arm available: $29.95.
Pays for itself in 4 – 5 months
           Call: (866) 200-8590          9:00 a.m. – 5:00 p.m. Pacific Time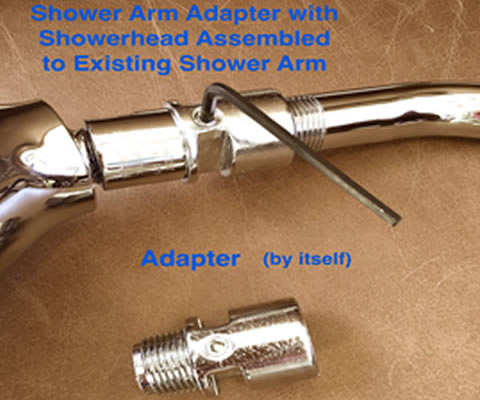 Shower Arm Adapter – O.K. Chrome job;
when installed between existing arm and shower head, not noticeable.
Retail Cost: $ 14.75
Pays for itself in 2 – 3 months
[Adjustment tools shown above Included]